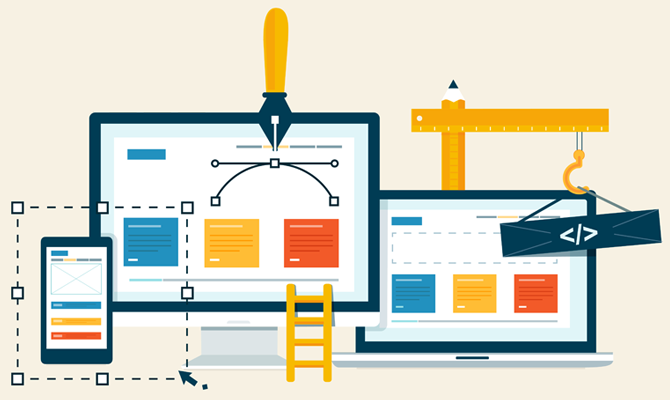 The covid-19 pandemic reformed how people utilize websites. What's your business doing with regards to website re-design?
Post-pandemic, your business website is essential for the success of your company. In a pre-pandemic phase, did you emphasize on forming an outstanding primary impression in person? A sparkling office, welcome areas, outlet branding, interesting packaging, and product-loaded store shelves all help in creating powerful impression in person. Though, most your audience's primary corporate impressions aren't in-person any longer—they're all virtual. Websites, social media branding, e-commerce store have conveniently replaced open houses, in-person networking, and storefronts.
Your website is the image of your business and its repute with customers. Check out these key 6 website elements which are necessary for businesses which seek to be fruitful in a post-pandemic digital world:
1. Mobile-oriented Websites
As per studies, mobile website traffic has outperformed desktop website traffic by the year 2020. Is your mobile-friendly website ready for your business? Your website ought to be easy to navigate, scroll up and down, and shop when opened from a mobile device. Moreover, a personalized mobile application could be your brand's key to bringing in more mobile device traffic.
Learn more about building a mobile friendly website design or mobile app development for your business.
2. Contemporary Design
Customers understand what best websites look like and what outdated websites from the old era look like. Keeping retro aesthetics and functionality aside, your website design endows customers with a brand new first impression of your company. Personally, would you choose a business lobby or business outlet with shag carpet and wood panelling? Keeping your website design updated is just as vital as a latest coating of paint in a post-covid pandemic era.
3. Speed
People want info speedily, whether it's regarding a business, product, or any of the service. If your website design is clumsy or quite slow to load, potential customers will go elsewhere — even Google understands that. Furthermore, web page experience is important if you wish to have your business's website to come up in Google's initial search results. With regards to speed, that means ensuring your web design is such that it gets loaded in 2.5 seconds or less.
4. Security
People are sharing loads of information on digital platform, and hackers have been heading after websites to get their share of pie. Website security comprises of possessing cybersecurity solutions in place, vigorously monitoring for cyber-attacks, and sustaining your website design with consistent security updates for prime frameworks and plugins. Even one single cyber-attack has potential ruin your business website's online reputation. Unsure where your website stands when it comes to security? We carry on website security scanning as part of our FREE website analysis and suggest whether you must go for website redesign services.
5. Content
"Content is king" is a well-acquainted phrase for a clear reason. Your website's content needs to signify what your business is providing to the audience and what your customers are searching for. Moreover, your content writing ought to be up-to-date and hassle-free for your audience to consume. Going back to the primary impression analogy, your business website's content will typically be the primary interaction you have with customers. Good post-pandemic websites require good content marketing for their business.
6. E-commerce
Quarantining during the covid-19 pandemic made it conceivable to buy pretty much any stuff without making direct connection with another person. If your business sells a physical product, it should be obtainable for purchase on your business website. If that's not conceivable with your industry, you must be talking about costing and how to buy when the time comes. Your ecommerce website design and development ought to simplify purchases for your customers, with everything they require to make the choice at their fingertips.
Galagali Multimedia Help Make Websites Simple To Operate.
Do you have queries about website redesign services for post-pandemic success? We can assist. Contact our website redesign company in Thane to learn more about our website redesign services and get a free website analysis and feedback.